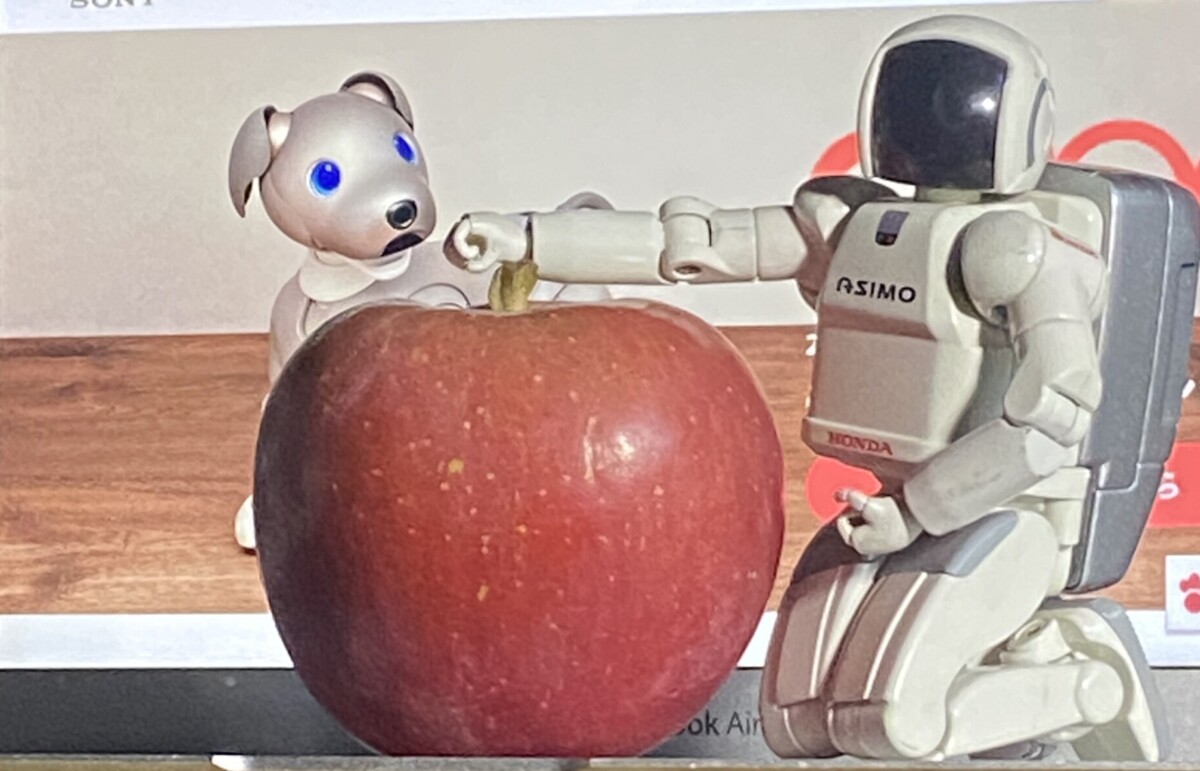 The day Apple decides to make a MacEV made in Japan What is a car that shines more than the iPhone ( Honda 27
Apple is developing an electric car. I haven't heard anything about the development status lately. Apple is a secretive company. Even information about new products such as iPhones and Mac books is full of speculation and expectations until just before the announcement, and we  don't know what the truth is.
Dreaming of Apple's new car announcement
While there is news that an electric vehicle that Apple is working on will be released in 2025, there is also a view that the development team has been disbanded and has stalled.
Now that the future of the apple car has become doubtful, I will dream of a press conference to be held in the near future, with expectations and speculations.
Apple CEO Tim Cook appeared on the stage. Apple car in front of you. Like a futuristic car, the pointy body that looks like it's flying in the sky from now on will catch your eye. Since the car has reached a level where unmanned driving is possible, there is no driver's seat in the car, and it looks like a living room. While traveling, enjoy talking with everyone, watching movies and listening to music. With full use of iPhone apps, the entertainment continues until you reach your destination.
"Now, thank you for waiting." Tim Cook smiles and points to the panel projected on the stage. HONDA and SONY are shining next to "Apple".
In 2015, Apple announced its self-driving technology development. The "Apple Car" concept is called "Project Titan", and various information and speculations have been flying since then. In order to develop technology and collect data on car driving, it is said that repeated test runs caused an accident. Alternatively, an engineer who was in charge of developing autonomous driving at the electric car maker "Tesla" joined Apple and left the company immediately.
The name of the automaker that has partnered with us in development and production is also whispered plausibly. "Volkswagen", "Nissan", "Hyundai", etc. All of them are known as trusted brands in the global automobile market, and all of them are major automobile manufacturers that are leading the development of electric vehicles.
"Apple does not produce itself." Taking the example of Apple's flagship product, the iPhone, The company  outsources production to Taiwan's Foxconn. When entering the electric vehicle market, there is no doubt that Apple will choose as a partner an automobile manufacturer that can mass-produce at a reasonable price while maintaining high quality. Foxconn, which manufactures iPhones on contract, is interested in electric vehicles, so there is a view that it may also outsource the production of Apple cars, but the probability should be low. Considering the current state of chaos in Chinese factories due to labor issues, the possibility is quite low.
A mobile phone failure rarely results in a fatal accident, but a car failure can be life-threatening. If the company dosen't have the reliability backed up by years of experience as well as technology, the company  should not get involved in the production of automobiles. Apple should understand the difference between mobile phones and cars.
A development partner where information and speculation fly
"Then, are Volkswagen and Nissan the most likely candidates?" Volkswagen's CEO will change in September 2022. Mr. Herbert Diess, who made a big turn from a gasoline engine car to an electric vehicle  retired and was replaced by Porsche CEO Oliver Blume. Volkswagen is known for power struggles, and there are various reasons for the change, but it is said that Mr. Diess' management skill, which shifts to electric vehicles even overcoming the resistance of the labor union, was also a disaster.
What about Nissan? Nissan is having difficulty negotiating a capital tie-up with Renault, a longstanding issue. Negotiations continue to revise the capital ratio, which Renault greatly exceeds Nissan, to an equal relationship, but the question of whether Nissan will invest in an electric vehicle company that Renault will newly establish has been added to the negotiating material. Nissan has become more confident in the commercialization of electric vehicles and self-driving cars, and other than Renault, it will not be willing to enter into negotiations on new electric vehicles. You can almost hear the words, "Please refrain from negotiating with foreign companies for a while."
Apple will narrow down the partners with which it seriously develops and produces electric vehicles. Apple will keep some distance from the Koreans because of the experience with lawsuits related to mobile phones. What about the Germans? Benz is refraining, but it is a proud Benz. I don't think it's going to line up with the newcomer Apple.
Honda and Sony by process of elimination
"After all, Honda and Sony remain as the last card." Both Honda and Sony are companies that love to challenge the world's most advanced fields. It's the same as Apple in that it runs ahead of technology and can't keep up with manufacturing. Although each of them is proud, it is a different pride from Mercedes-Benz and Toyota Motor Corporation. they have "the some smarts" to think about joining hands if no one else in the world is doing it.
Moreover, in the process of developing and producing electric vehicles with Sony, Honda experienced the difficulty of forming a partnership with Apple. As an automobile manufacturer, Honda is currently studying how to clarify non-negotiable lines such as safety, and how to incorporate new technologies and ideas such as entertainment and information communication.
Is there any danger that Sony and Apple will collide? Both companies know they are fighting with different people. Steve Jobs is talking to a company that respects Sony. The judging of each other's strengths and weaknesses will soon be over. There is a possibility that Sony "Xperia" and iPhone can be used differently.
Honda simulates development with Apple at Sony
 Sony and Apple won't be able to compromise if they just enter the electric vehicle business as a hobby, but if they truly share the desire to create the world's most advanced electric vehicle, it's a trivial matter. It's just a matter of whether the buyer likes or dislikes Sony or Apple.
If the Apple car appears in 2025, development and production partners will be clarified within one year. I'm looking forward to seeing the MacEV made in Japan soon.